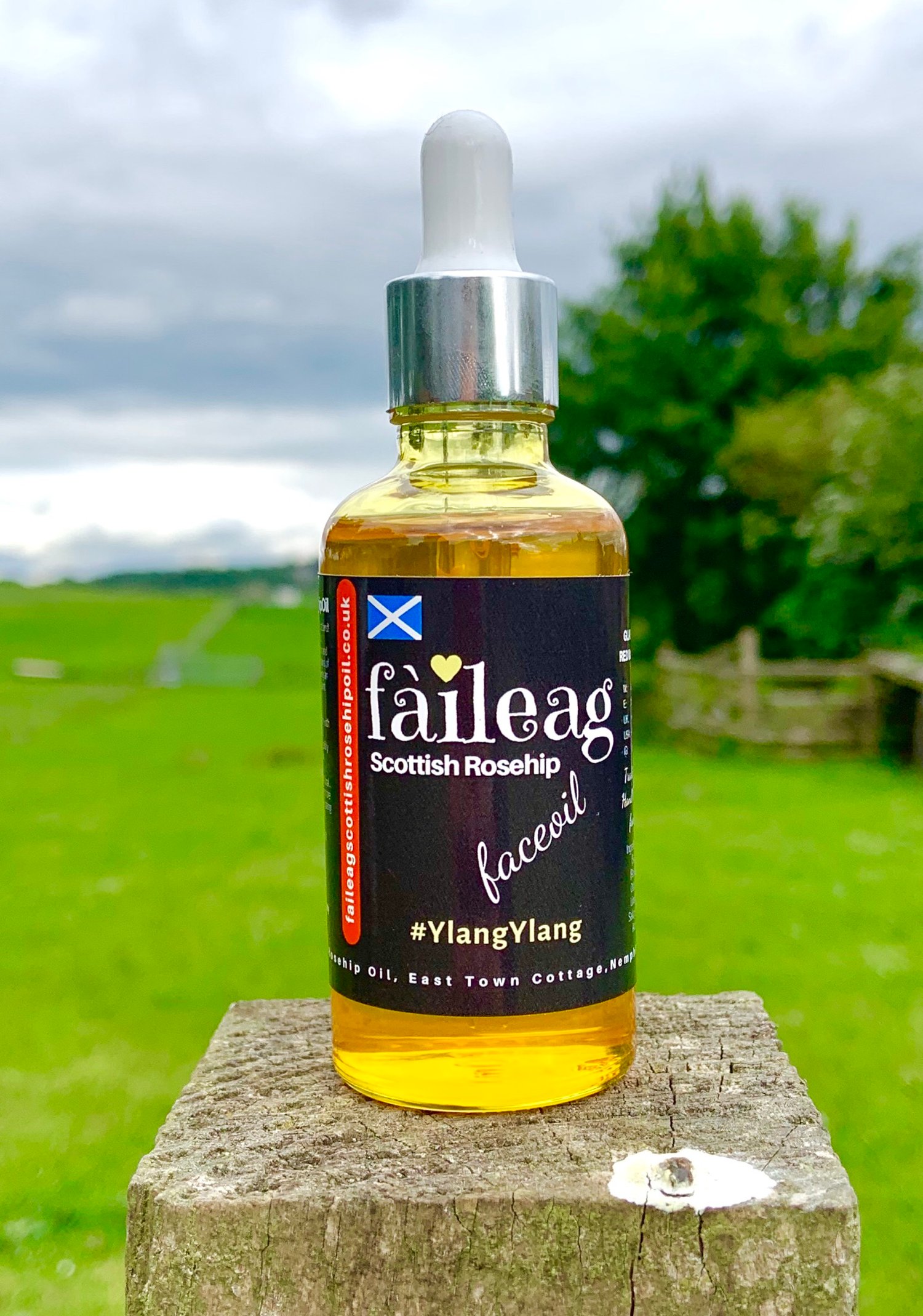 Fàileag RoseHip Oil - YlangYlang Hint
🏴󠁧󠁢󠁳󠁣󠁴󠁿🌹🏴󠁧󠁢󠁳󠁣󠁴󠁿 Fàileag Scottish Rosehip Oil is HandCrafted 👩🏼‍🍳 in Scotland 🏔 to a Traditional Scottish recipe 📝 Each 'hint' is my Original RoseHipOil infused with a 'hint' of EssentialOil to give specific & individual added benefits of your choice 🤗
*LabTested 🧐
*CPSR Certified 📜
*NotTestedOnAnimals 🦌
*VeganFriendly 🌿
*NaturalIngredients ✅
*ProductOfScotland 💙
As we mature, our skin is gradually depleted of EssentialNutrients, Oils & elasticity, InTurn it can become DeHydrated&Dry, losing its InnerGlow. RosehipOil has become More&More Popular, with all AgeGroups now incorporating it into their DailySkinCareRoutine to help to maintain & restore that YouthfulGlow.
Super LightWeight, RoseHipOil is easily absorbed by the skin, it feels good with amazing benefits, leaving the skin hydrated with a Natural,GlowingRadiance. It goes beyond just moisturising, leaving the skin noticeably softer and smoother, and increasing elasticity. It offers MultipleBenefits, tackling inflammation, Scars&FineLines,Dark pigmentation, AgeSpots along with carrying Powerful,ProtectiveAntioxidants. A welcome addition to any SkinCare routine, helping protect the skin & speed up the skin's healing process.
YlangYlangHint - Aside from the sweet scent of YlangYlang, there are so many benefits its essential oil can give. However, let us set our focus on how it helps in skin care and treatments. Just like LavenderEssentialOil, YlangYlang essential oil lifts mood through its calming effect, which has even been noted to lower blood pressure.
Just like any other essential oil with healing properties, YlangYlang is used to refresh the skin and give a healthy glow. Aside from treating acne, it also balances OilyProne skin. YlangYlang stimulates cell growth that enables the user to avoid wrinkles and other effects of skin aging. There's just something special about YlangYlangHint RosehipOil!
...HandMade with Love from Scotland xoxo
Directions: For optimum results, locking in moisture, apply to damp skin, warming a few drops between palms before applying in a smoothing, outwards, circular motion, always against gravity!
Shipping the SameDay, EveryDay! ...assuming No NaturalDisasters! ThankYou!!