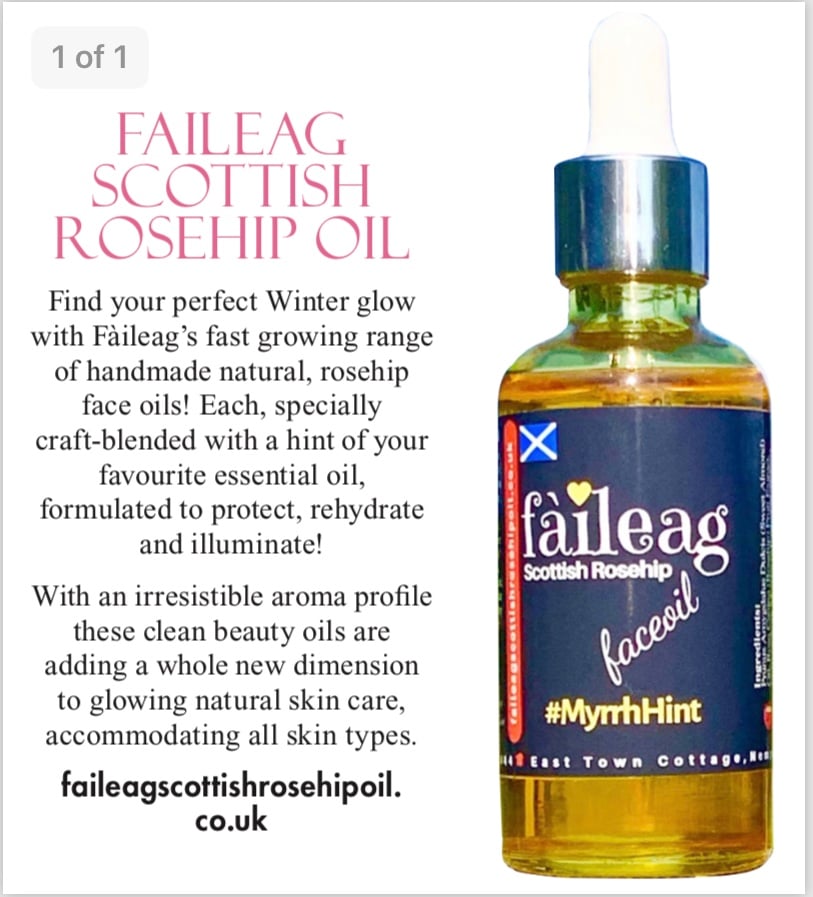 Myrrh - As seen in REDMagazine (May2020 & Dec2019 issues)
Fàileag Scottish RoseHipOil - As we mature, our skin is gradually depleted of Essential Nutrients, natural oils & elasticity. In Turn our skin can become DeHydrated & Dry, losing its InnerGlow. Rosehip Oil has become Increasingly Popular, with all Age Groups now incorporating it into their Daily SkinCare Routine to help to maintain & restore that YouthfulGlow. Our product is also Super LightWeight, It is easily absorbed by the skin and feels good with amazing benefits. leaving the skin hydrated with a Natural,GlowingRadiance.
Fàileag Scottish Rosehip Oil however, goes beyond just moisturising, leaving the skin noticeably softer and smoother, increasing elasticity, promoting good circulation, tackling inflammation, Scars & FineLines, Dark pigmentation, even Acne with its high concentration of vitamin A, Age Spots along with carrying Powerful, Protective Antioxidants. A welcome addition to any SkinCare routine, helping protect the skin & speed up the skin's healing and cell regeneration process for that perfect glow our Rosehip oil provides.
10 ReasonsTo Love Fàileag Scottish RoseHipOil's ⭐️ MyrrhHint ⭐️
1️⃣ Wonderful HealingOil helping with Vitiligo, SkinIrritants, Eczema, ChappedSkin, Acne, StretchMarks...
2️⃣ Boosts Collagen&Elastin production
3️⃣ Strengthens&Regenerates the Skin'sProtectiveBarrier
4️⃣ An effective Cleansing&Moisturising 2-1 Oil, perfect for those who may have had surgery & are advised not to bathe right away
5️⃣ A very great SkinTightener to reduce FineLines&Wrinkles 👵🏼
6️⃣ Myrrh has the power to increase the function of WhiteBloodCells which play a HugePart in WoundHealing
7️⃣ Rejuvenates & Purifies the skin thereby adding lustre to any DullSkin
8️⃣ Hold on tight to this one girls 😉 it is a GreatOil for the men, very soothing on the skin after shaving 🥰
9️⃣ The fact that MyrrhOil was used for EnBalming (so interesting how they did that 🤩) has me sold on this MiracleOil 💯..along with it's ChristmasVibe 💁🏼‍♀️✨🎄✨🙃
1️⃣0️⃣ 🏴󠁧󠁢󠁳󠁣󠁴󠁿🌹🏴󠁧󠁢󠁳󠁣󠁴󠁿 Fàileag Scottish Rosehip Oil is HandCrafted 👩🏼‍🍳 in Scotland 🏔 to a Traditional Scottish recipe 📝 Each 'hint' is Fàileag's Original RoseHipOil infused with a 'hint' of EssentialOil to give specific & individual added benefits of your choice 🤗
...HandMade with Love from Scotland xoxo
*CPSR Certified 📜
*NotTestedOnAnimals 🦌
*VeganFriendly 🌿
*NaturalIngredients ✅
*ProductOfScotland 💙
*LabTested 🧐